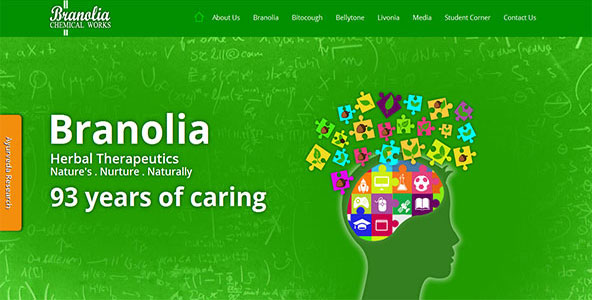 Establishing online brand presence and impacting revenue pan-India for a Indian pharma behemoth
Case Synopsis
Branolia Chemical Works traditionally has not been a tech savvy company and had no worthwhile digital presence. With it setting eye on the pan-India market, a website became necessary. Branolia Chemical Works selected Zivanta Analytics to design and also market their website primarily because of its design prowess and digital marketing abilities.
About the Client
Branolia Chemical Works is a ninety-year-old company manufacturing herbal therapeutics. Inspired by the philosophy of Swadeshi , two brothers Shri Dhirendra Chandra Majumdar and Shri Pran Kumar Majumdar founded the Branolia Chemical Works in 1922 along with another sister concern Jugabarta Press. A small herbal medicine manufacturing unit was set up at Sealdah, Calcutta. Over the years, Branolia Chemicals has added to its portfolio a number of herbal products which have been well received. They include Bitocough (for cough and cold), Livonia (for better digestive outcomes) and Bellytone (to control constipation). Lead by its iconic brand Branolia, the company commands significant market share in brain tonic and cough medicine market.
The Approach
The brainstorming sessions followed on how to design and position the Branolia website.
Design: A review of the websites of competition revealed that the design philosophy was a matter of fact and straitjacket given that pharma and medicine is considered a serious topic. Zivanta Analytics turned the logic on its head and recommended that a pharma website can be colorful and trendy. The reasoning were:
The flagship product Branolia, is a brain tonic which has the largest market base amongst students and youth and the design preference of this group had to be kept in mind
The website should reflect brightness , joy and zest for life – attributes connected to health
There has to be a standout factor which differentiates from competition
Demonstrate Knowledge: To demonstrate that Branolia is a knowledge driven company, the synopsis of recent research from academic journals on alternate medicine and also herbal inputs which go into the manufacture of Branolia Chemical Products was to be showcased.
Incorporating existing promotion material: Branolia is a heavy advertisement spender especially on television. All the advertisement videos have been showcased on the website.
The Outcome
The achievements in the first six months of the launch of the website are as follows:
The site achieved the highest Alexa ranking 15631 amongst all the Indian websites
A number of business leads were generated which lead to atleast two new distributorships
Branolia achieved first-page status in Google for all its brand names i.e. Branolia, Bitocough, and Bellytone
It also achieved first page ranking for generic key phrases like 'brain tonic student'
A number of customer queries have started coming in for the products from across the country