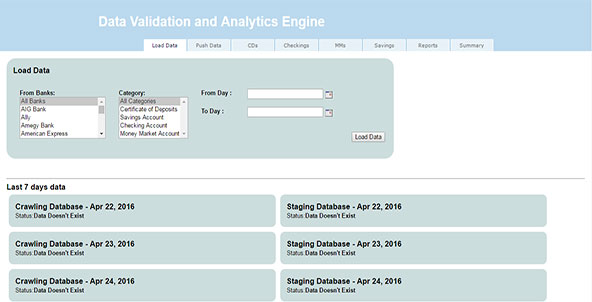 Enabling U.S deposit rate customers take localized personal investing decisions
About the Product
Aggregation of deposit rate product information across all major traditional banks and some key online banks is what Zivanta started with, as its maiden product suite. Over time, as we started covering all major bank products i.e. Certificate of Deposits, Checking, Money Market and Savings, offered by the banks in the U.S, we also started expanding geography wise and institution wise.
The Challenge
As an analytical solutions provider, the main challenge of Zivanta is to show real-time updated rates & APY to the customer, so that they can take proper pricing decision. Another challenge is also to track whether any existing or new product of the bank is removed or added to their list. Tracking real time correct data was our main target over the period of time, which we ultimately built by applying proper algorithms into place.
The Approach
We have also built several proprietary algorithms that we use in our bank rating and product rating indexes. Using these indexes, we compile bank health reports and consumer focused e-magazines and bulletins about rate fluctuations, new added features of a product or a bank, tracking recent developments in product and pricing, besides state wide averages, policies, and regulations.
The Outcome
Today, Zivanta is one of the leading financial rate and information aggregators of the web, crawling over 60 banks across 4 deposit product categories. In addition to rate data, we also publish original and objective personal finance stories to help consumers make informed financial decisions.